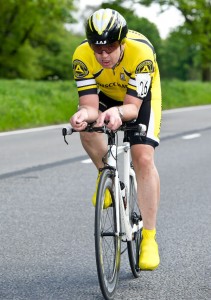 Hi, I'm Phil and in addition to being General Secretary I'm also the time trial secretary. This means I handle administration, liaise with organisations we're affiliated to and promote our open events.
What's a time trial?
A time trial is a race against the clock over a set distance on a set course. You are not allowed any pacing from either vehicles or other riders. They have a certain purity in that you are racing against yourself (and the clock obviously). You are trying to be as good as you can and beat your personal best (PB). The quicker you get the higher you move up the results board, but you can still have a good race and result even if you aren't high up in the results. You can also compete for club standard medals, club trophies, or try and set a new club record.
Addiscombe CC are affiliated to the following organisations:
Club events
We promote a series of club events during the summer months: see the calendar for details.
There are prizes for performance over this series (best four events to qualify); prizes will be awarded for Scratch, Handicap, Juniors, Women and Veterans.
All our club events are suitable for riders of any ability. No need for a fancy time trial bike, no need for an expensive race license, just turn up and ride.
Open events
In 2014 we're promoting two open events, the 25 mile on April 27th and the 10 mile on August 30th.
For more information contact timetrails@addiscombe.org